NTN's heavy duty differential kit line provides axle repair solutions for a variety of makes and models, including differentials from OEM manufacturers such as Dana/Spicer, Eaton, Mack, and Meritor. Each repair kit was specially designed for the heavy duty truck aftermarket using OEM preferred products to bring exceptional value.
Differential Kits
PREMIUM BRANDS, PREMIUM MATERIALS
Our differential kits are only offered with premium components. Whether that is a genuine NTN bearing that is case-carburized premium steel to provide superior fatigue life and reliability, or oil seals that must meet the demanding needs of a heavy duty truck axle. Each component undergoes NTN's rigorous testing to ensure parts live up to our quality standards.

SOLUTIONS FOR YOUR HEAVY DUTY APPLICATION
We offer two types of differential kits to service the heavy duty truck industry.
Master differential kits save you significant time for a differential rebuild by incorporating all the necessary components in one box – All differential rebuild bearings, seals, gaskets, o-rings, sealant, and thread locker.
We also offer rebuilder versions of our master kits designated "V100". These kits offer the same core components but exclude common pieces that differential rebuilders stock such as seals and o-rings. This offering provides a unique, environmentally friendly solution to your needs while saving you money.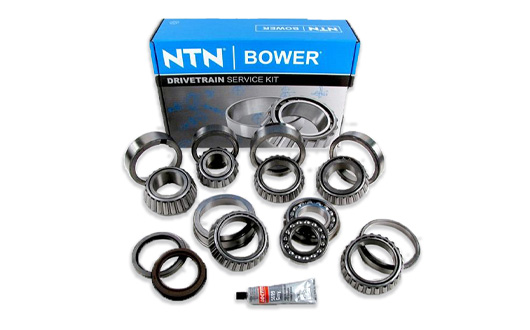 FOCUS ON RELATED APPLICATIONS
NTN products are critical to keep the world moving smoothly. Our bearings and related products are present in a wide variety of industries. Please see the industries below that have applications for this product category.
You may also be interested in these related resources.
AUTHORIZED DISTRIBUTOR SEARCH
NTN has dozens of manufacturing plants and distribution centers throughout the Americas, to keep our distribution channels fully stocked. Use our distributor locator tool to find a distributor close to you.
BEARING FINDER
Are you looking for a specific size of bearing? Do you have an NTN or other part number to look up? Do you need a CAD file or technical specifications? Find and download the bearing information you need with NTN's robust online product catalog tool.