NTN offers a variety of Flanged disc units to better service your high demands of this industry.
Flanged Disc Units
Flanged disc units, or heavy duty disc bearings, are primarily used in the Agricultural industry. These flanged disc bearings are designed for the most severe tillage applications for operation in heavily contaminated environments. NTN's Heavy Duty Disc Bearings are securely mounted within a rugged, corrosion-resistant housing for optimal performance in various environments.
Our Heavy Duty Flanged Disc Bearings provide maximum integrity when our heavy gauge, case-hardened and zinc plated stampings encapsulate the bearing and are assembled with cold formed rivets. Additionally, a grease fitting is permanently retained in the stamping, but allows easy re-lubrication of the bearing.
Providing dynamic alignment & maximum seal effectiveness are keys to the success of NTN's flanged discs. Our housing is designed to allow +/-3° of misalignment and our bearings are sealed on both sides with rugged, triple-lip nitrile rubber seals which guard against contamination under the most severe operating conditions.
Overall, NTN offers a variety of high quality, bore options such as hex, square and round to better service your high demands of this rugged industry.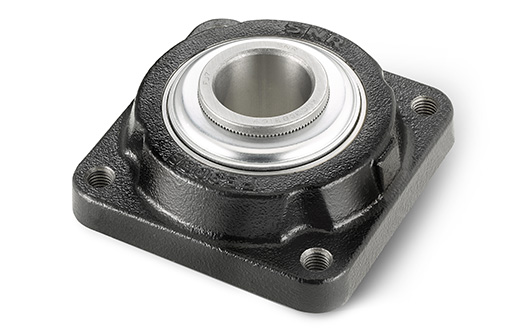 FOCUS ON RELATED APPLICATIONS
NTN products are critical to keep the world moving smoothly. Our bearings and related products are present in a wide variety of industries. Please see the industries below that have applications for this product category.
AUTHORIZED DISTRIBUTOR SEARCH
NTN has dozens of manufacturing plants and distribution centers throughout the Americas, to keep our distribution channels fully stocked. Use our distributor locator tool to find a distributor close to you.
BEARING FINDER
Are you looking for a specific size of bearing? Do you have an NTN or other part number to look up? Do you need a CAD file or technical specifications? Find and download the bearing information you need with NTN's robust online product catalog tool.